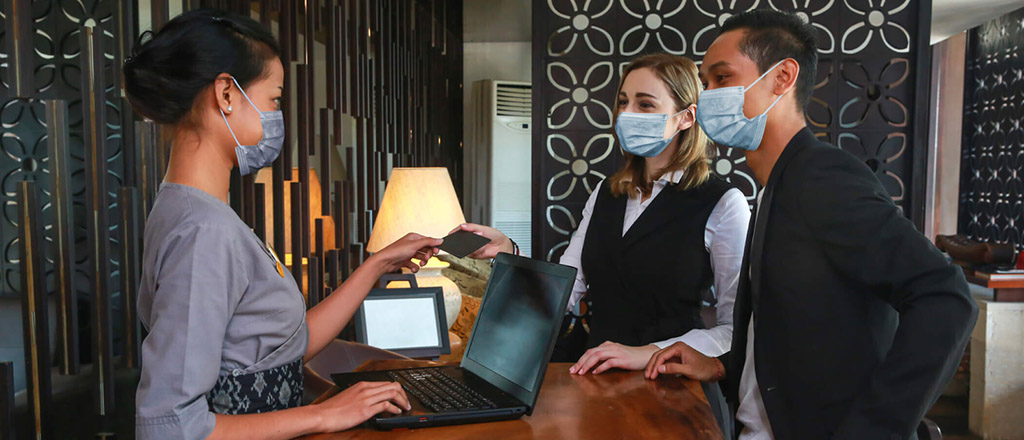 Hospitality is a customer-oriented industry as diverse as the culinary delicacies on its establishment tables. The hospitality industry is a vast profession that entails daily monitoring of the administrative, operational, and commercial activities of enterprises in the hospitality sector.
Several departments fall under the hospitality umbrella. The Housekeeping Department, Front Office Department, Food & Beverage Department, and Food Production Department are the 4 main departments at the forefront of hospitality.
Hospitality Management programs are a great place to start if you want a once-in-a-lifetime opportunity to merge practical and theoretical education.
Here are the 4 professional hospitality training in Bhutan to equip you for your future career-both Bhutan and overseas. 
Front Office Department (FO)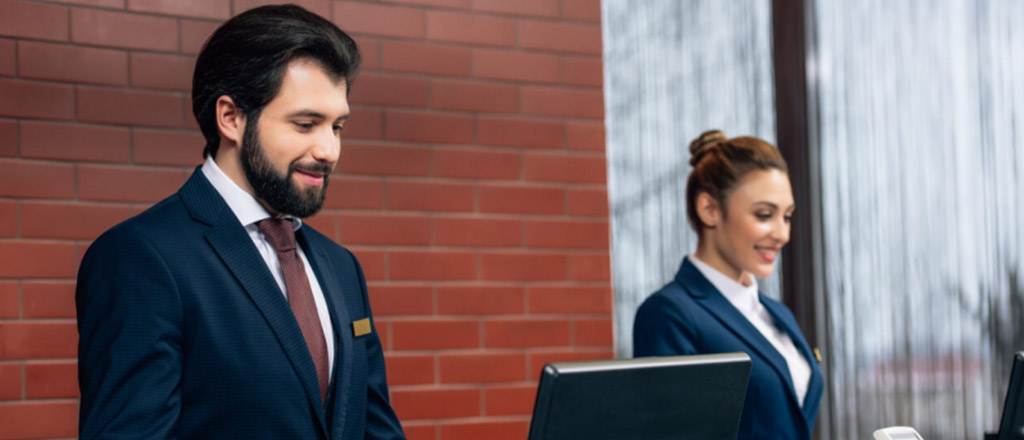 The Front of Office is the face of the hotel. They are the first to meet and greet guests, responsible for allocating rooms, handling complaints, making reservations, and dealing with room payments. The Front Office is also responsible for providing constant sources of information to guests during their stay. 
They serve as the central hub of any hotel, relaying information and messages to the rest of the departments. The revenue rendered by the sale of rooms accounts for more than half of the hotel's overall sales.
Based on the size and standard of the hotel, the front office division is separated into Reception, Cashier, Information/ Help Desk, Reservation, Telephone Operator, and Bell desk departments. All these will be taught during your Front of Office training in Bhutan. 
Food Production Department (Culinary)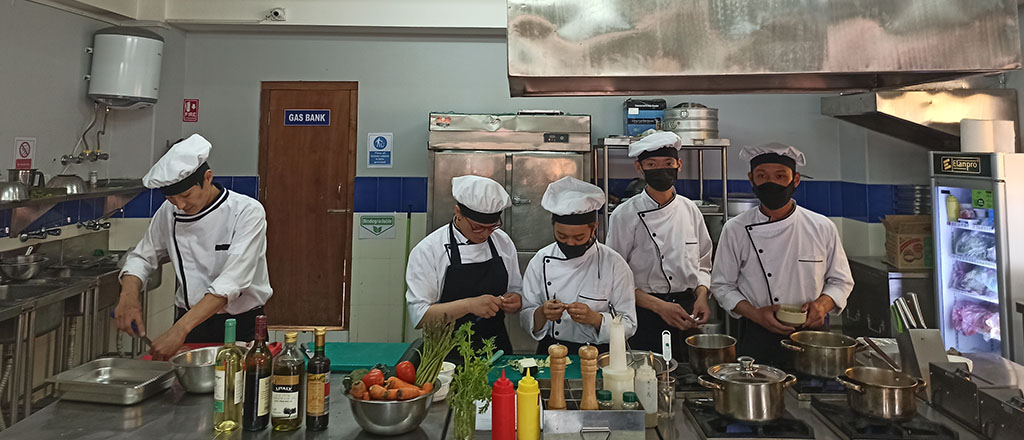 The Food Production or Culinary Department is one of the most important parts of any establishment. Their main job is to prepare Food for walk-ins and those staying at the hotel. There are several subdivisions under food production, each responsible for different stations.
Except at WISE, there isn't any training in Bhutan that offers globally recognized EHL certificates. Those interested in food production can choose from various fields, from baking, banquet management, and continental chef training in Bhutan. 
A diploma in Food Production will gain the skills and knowledge to be effectively operational in various kitchens adhering to first-class culinary production standards.
By completing the diploma, students will have a thorough understanding of how kitchen management is carried out and the tools utilized by industry experts to do so. Students who complete the Food Production program will be able to operate autonomously in the kitchen and will be well-prepared to enter the sector and advance to a supervisory position in a short time. The training is based on the Swiss vocational qualification framework for kitchen staff.
There are three levels of Food Production training; basic, intermediate, and advanced. Completing all 3 levels allows you to start a career in the food industry. Candidates will gain months of internship experience in the hospitality sector. After completion, you will be able to pursue possibilities in other countries. There will be opportunities to become entrepreneurs in the field.
Food And Beverage Service Department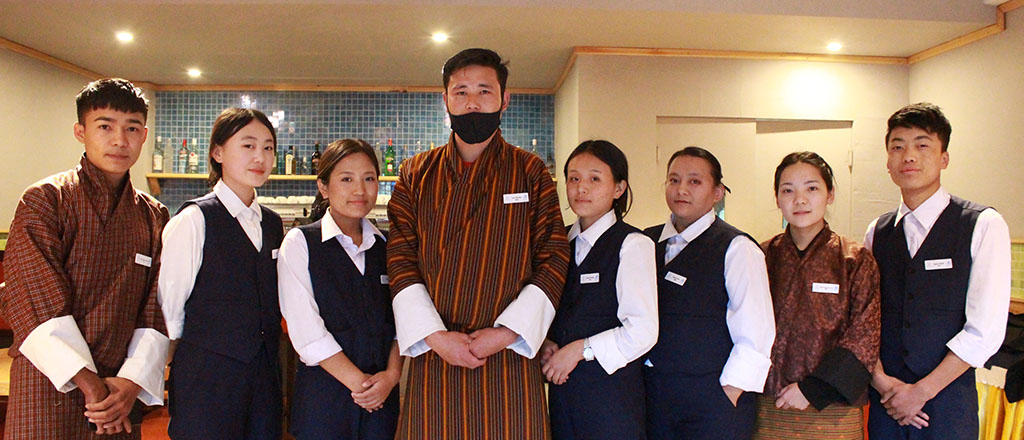 The department of Food and Beverage is an important aspect of any hotel because it provides food and beverage service to the walk-ins or guests staying in the hotel as per their orders in any F & B establishment.
This department is critical in providing food and beverage service by placing orders from the hot or cold sections of the kitchen to the clients' tables properly and courteously.
F&B in any hospitality establishment is critical to the profitable operation of the hotel. Approximately 40% of the hotel's total revenue is tied directly to the F&B Service division. 
Employees of the F&B Services team are responsible for various activities such as preparing for service, welcoming visitors, collecting their orders, settling bills, and doing numerous additional jobs after the guests have left.
Restaurants, room service, banquets, and bars are all the Food and Beverage Department subdivisions.
During the Food and Beverage training in Bhutan, students acquire the skills needed to be fully operational within various restaurant concepts while adhering to the requirements of a first-class restaurant atmosphere through a blended learning strategy. After completing the course, students will understand how F&B establishments are managed and the skills required for success. They will learn about the various crockery to the various table setups and mix drinks at the bar.
Aside from the aforementioned, students will learn how to groom themselves to reach professional standards, communicate effectively, attentively, and integrity—all of which are required of F&B personnel.
Housekeeping Department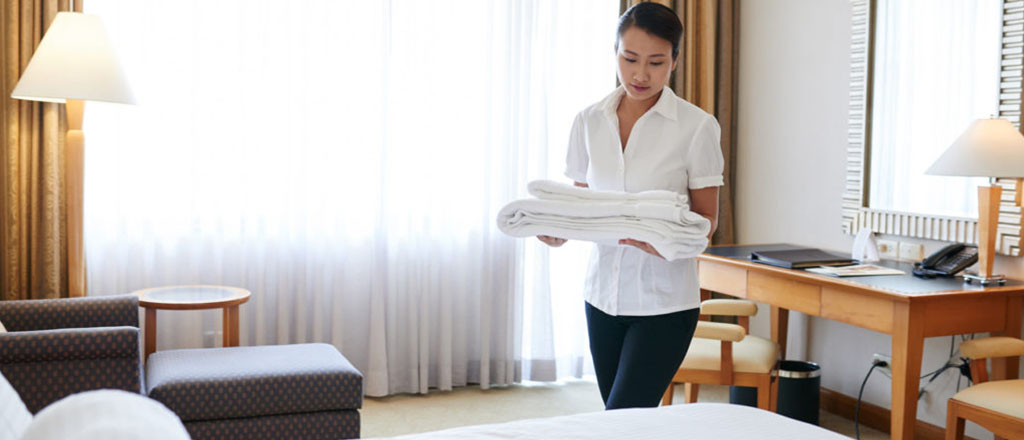 Housekeeping is one of the hotel's largest divisions, and it is in charge of ensuring hygiene, maintenance, and a safe atmosphere. By providing the utmost comfort to the guests, the hotels maintain their quality, which helps them achieve maximum profit by selling the rooms. It is also considered the management's ears and eyes, from which the majority of money is earned.
The hotel's housekeeping crew plays a huge role in creating a "Home away from Home" environment for guests. The services supplied by the housekeeping staff transform an ordinary hotel into a tourist destination. The sale of rooms accounts for at least half of the total income.
The key role of this department is to tidy the rooms, lobbies, and common spaces of a hotel to maintain its quality. This unit also handles décor and design, floor layout, linen selection, curtains, carpets, floral arrangements, and so on. All these will be taught during your housekeeping training in Bhutan. 
These 4 professional hospitality training in Bhutan will open doors to the customer-oriented world of hospitality for you! All four departments mentioned above play a crucial role in running any establishment. This is why there's a huge demand both in Bhutan and overseas. 
Wangchuk Institute for Skills Enhancing provides all 4 training in Bhutan, and the diploma certificate is recognized globally. Take a step forward for your future and choose from Room Division (Housekeeping), F&B Department, Front of House, or Culinary (Kitchen/ Food Production) and enroll with WISE today. Your future is an enrollment away. 
Being partners with international hotels and restaurants, WISE is also an overseas placement firm approved by MOLHR.