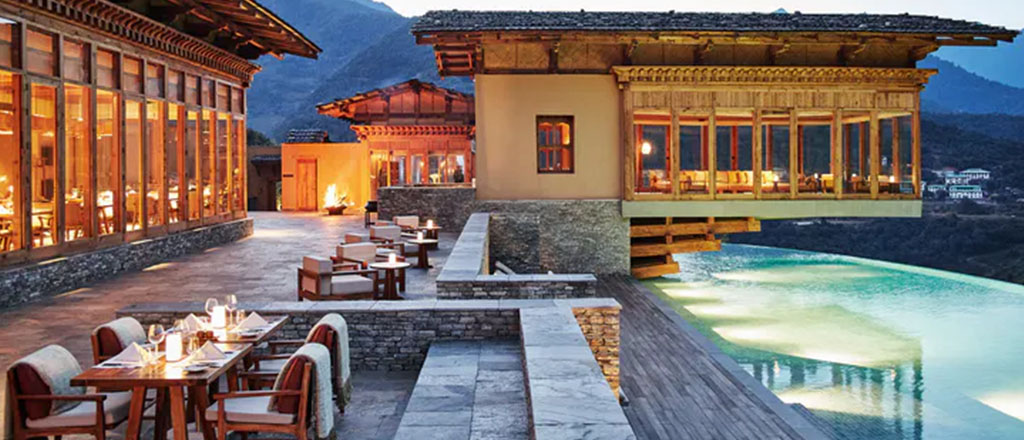 Do you need some leisure time? Choose Bhutan as your next travel destination!  You will make the right choice because Bhutan offers exclusive hotels in Bhutan. They offer great services to visitors from all over the world along with the country's rich biodiversity and unique cultural shows.
The small Himalayan Kingdom, nestled between mighty China to the north and massive India to the south, offers a heavenly destination that combines the best of both countries. You'll come across a variety of lodging options that Bhutan hotels provide, and we are confident that the majority of them will delight you. The majority of Bhutanese hotels are made of alpine wood, making them feel warm and inviting.
Discover the allure of this evergreen paradise by staying in one of these top 15 hotels in Bhutan for a clean, comfortable, and cozy stay!
1. Aman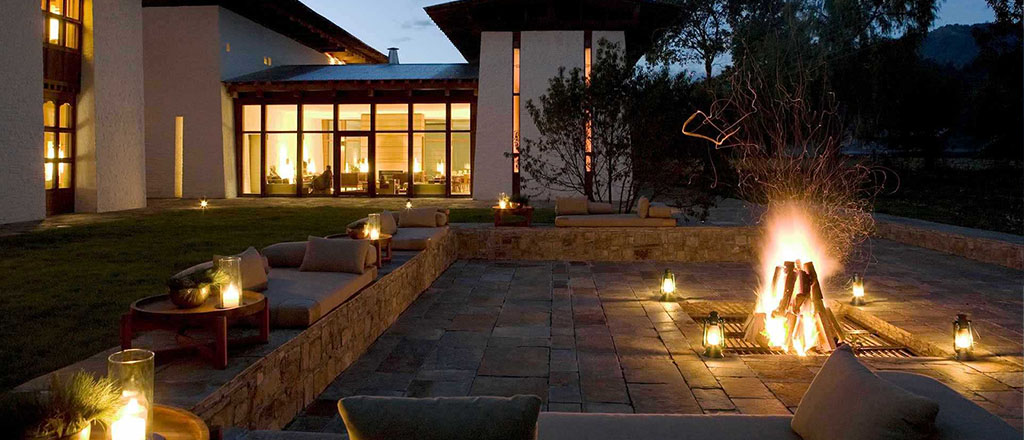 The word Aman comes from the Sanskrit word aman, which means peace. The western and central parts of the country are home to Aman hotels. Aman is a well-known hotel around the world. Aman Bhutan has five luxury hotels, all of which are located in beautiful locations. Amankora Paro,
Amankora Thimphu, Amankora Punakha, Amankora Gangtey, and Amankora Bumthang are some of the other names for it. Each hotel has a distinct design that is based on traditional styles. This provides guests with an exciting journey from one hotel to the next while maintaining high service and food quality.
2. Uma Como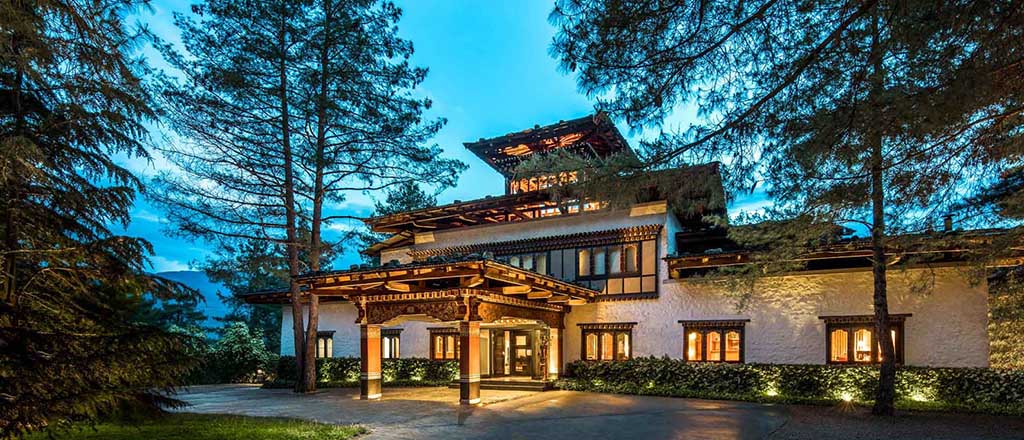 This luxurious 5-star resort is located near Paro's town center on a pine-covered hillside. Orchards, valleys, and terraced mountains surround the COMO Uma Paro, which has 29 rooms. It may be located in a remote Himalayan kingdom, but guests used to the highest levels of luxury will feel right at home with this authentic resort.
The hotel combines clean-lined modernism with the feel of a Bhutanese village that blends into the Blue Pine forest on the cliffs above. As you watch the moon rise and set, be moved by the uplifting sense of peace.
3. Six Senses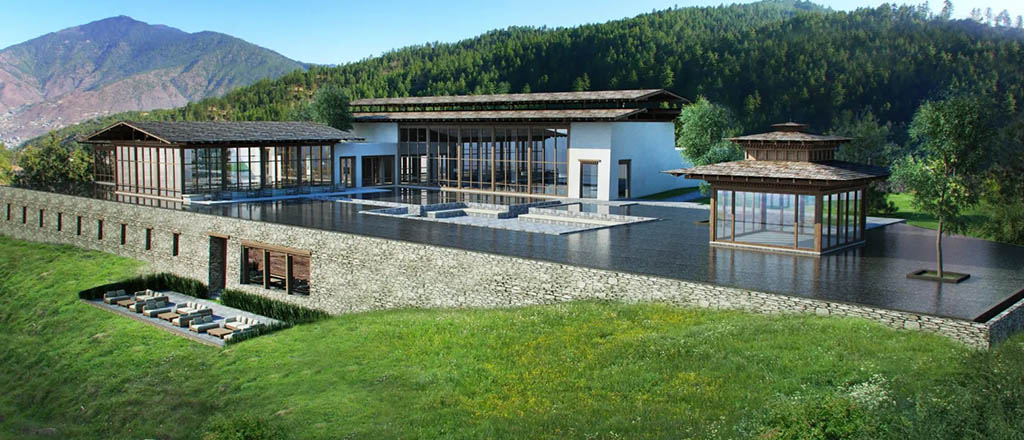 Six Senses Bhutan, which consists of five lodges spread across the west and central valleys of this remote Himalayan kingdom, offers guests a one-of-a-kind adventure filled with uplifting experiences at every turn.Sunrise meditations and holistic spa treatments, as well as private astrology readings and butter lamp lighting ceremonies, as well as incredible hikes and treks through pristine forests, are all designed to leave you feeling enriched and reconnected.
Each location has been carefully planned to immerse visitors in the culture of the area fully. Each valley's diversity and unique character are reflected in the lodges, which vary in style. The spacious interiors are framed by subtle references to Bhutanese architecture, such as the natural wood furniture's simple lines and the presence of locally inspired touches like Bukhari (traditional wood-burning stoves). Vegetable-dyed, antique-washed Himalayan rugs, which offer sweeping views.
4. Gangtey Lodge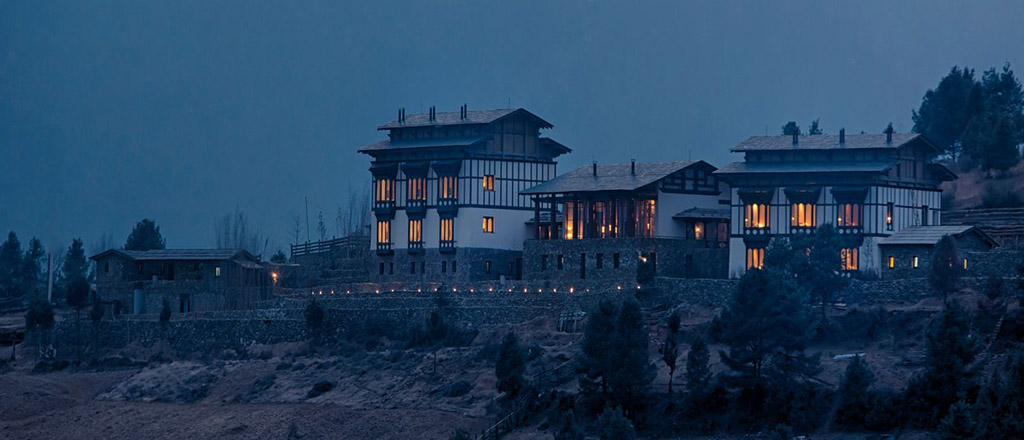 Gangtey Lodge, located in the beautiful Phobjikha Valley, provides all of the amenities that one would expect in a fine country home. Its remote location in Bhutan's heartland allows visitors to step back in time, far from the stresses and materialism of modern life.
The valley below and the revered Gangtey Goenpa can be seen from the 12 guest suites (monastery). Heated hand-cut stone floors and deep bathtubs, as well as beautiful glass door wood burning stoves, add to the sense of luxury and coziness (called Bukhari).
The main lodge's design is subtly inspired by Bhutanese artwork and monastic architecture. Local artists and masons created murals and carvings depicting images and landscapes from the valley. While the valley awakens with fresh pine-scented air, enjoy a morning cup of coffee on the spacious outdoor terrace. Cozy leather sofas nestled around two massive stone fireplaces and plush, hand-woven carpeting create the perfect atmosphere for intimate evening dining and drinks.
5. Le Meridien Thimphu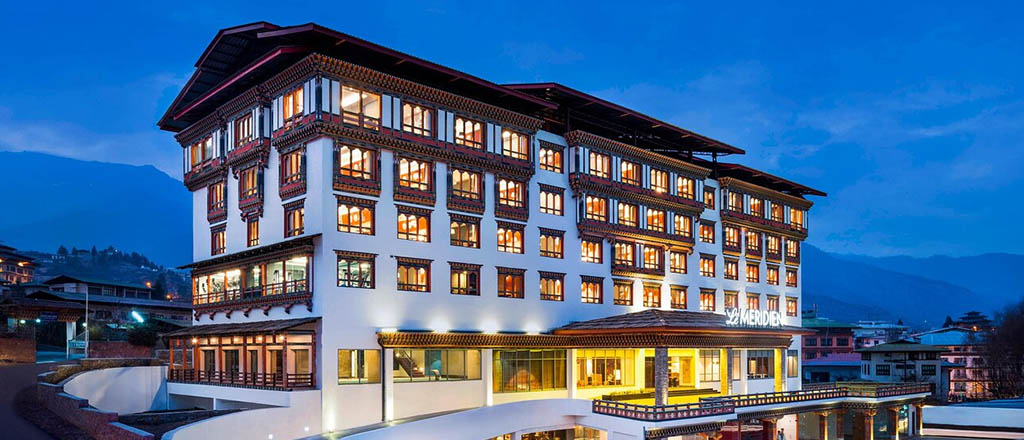 Le Meridien, one of Thimphu's finest and most luxurious 5-star hotels, is the ideal location for a relaxing vacation. Standard rooms have city and mountain views, upgraded rooms have a separate living room, extra bathrooms, and access to a club lounge, and suites have separate living rooms, extra bathrooms, and access to a club lounge. Two elegant restaurants, a hip bar, a spa with health treatments, saunas, and steam rooms are among the other amenities.
6. Taj Tashi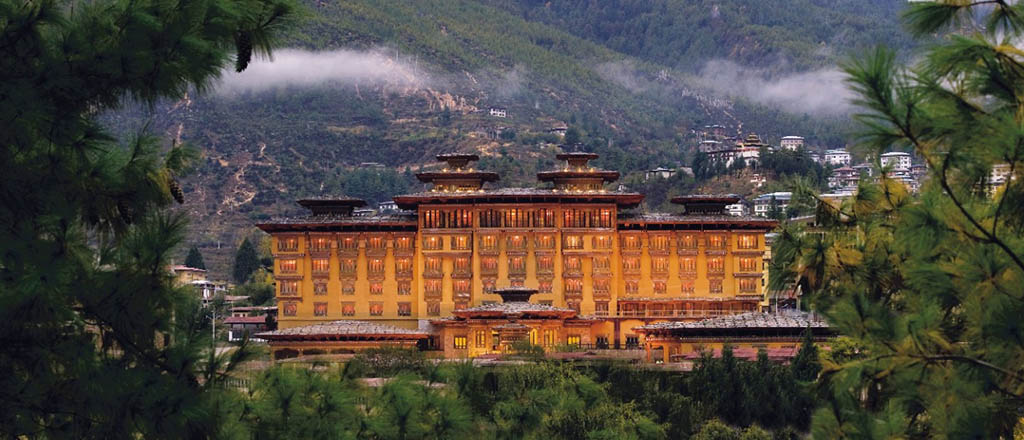 Le Meridien, one of Thimphu's finest and most luxurious 5-star hotels, is the ideal location for a relaxing vacation. Standard rooms have city and mountain views, upgraded rooms have a separate living room, extra bathrooms, and access to a club lounge, and suites have separate living rooms, extra bathrooms, and access to a club lounge. Two elegant restaurants, a hip bar, a spa with health treatments, saunas, and steam rooms are among the other amenities.
7. Dhensa Boutique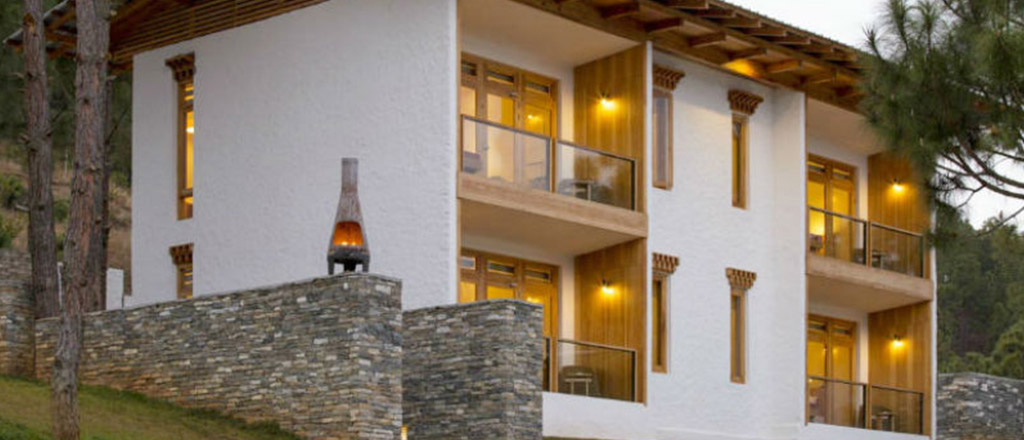 Dhensa Punakha is situated in the lush Punakha Valley. It is surrounded by beautiful hiking and trekking trails and overlooks the Punakha River and hundreds of paddy fields that descend to the valley floor. It is surrounded by dense pine forests and looks out over the Punakha river and hundreds of paddy fields that slope down to the valley floor.
The magnificent Sangchhen Dorji Lhuendrup Lhakhang Nunnery, which houses one of the country's largest bronze statues of Chenrezig (Avalokiteshvara), is only a five-minute walk up the hill from Dhensa. Local Bhutanese artisans created it entirely by hand. Dhensa Punakha combines modern design with the ancient and alluring ways of this Himalayan Kingdom. The sense of innocence and purity is at the heart of the Dhensa philosophy.
8. Zhiwa Ling Heritage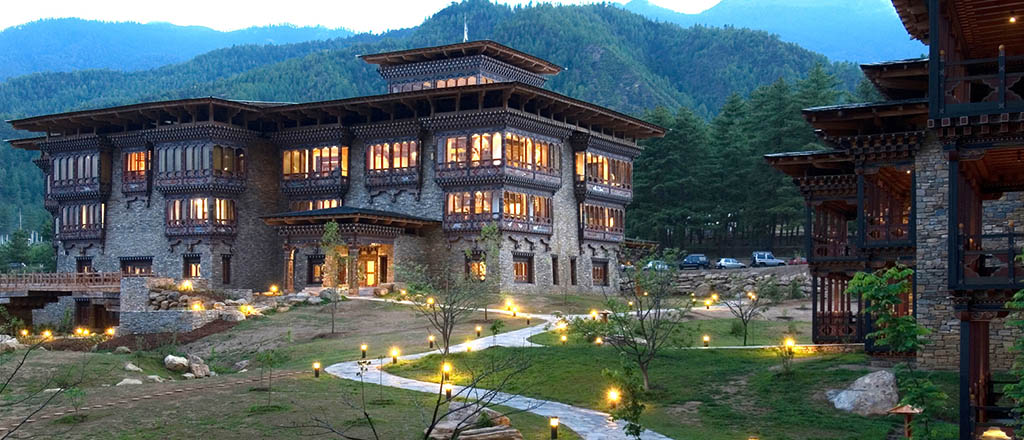 The only Bhutanese-owned 5-star hotel in Paro, Hotel Zhiwa Ling is a luxurious retreat. The hotel combines the ambiance of a fine Bhutanese guesthouse with the most advanced technology available in the twenty-first century. It is located 15 minutes from the main town on a 10-acre plot of land. According to a label, it is listed among a group of boutique hotels in exotic locations around the world.
9. Zhiwaling Ascent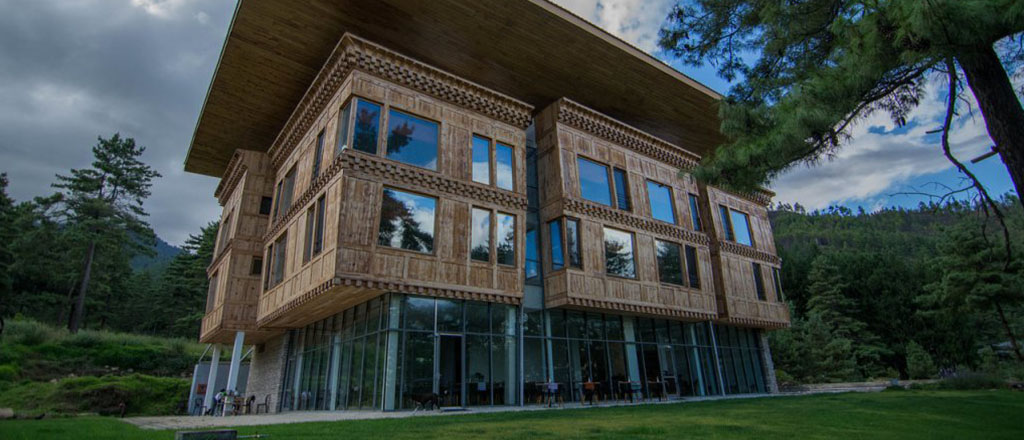 Zhiwa Ling Ascent is a new level of comfort and luxury with elegance, beautifully situated at the foot of a mountain with all 20 rooms overlooking the majestic views. Here, you can expect first-class service from a dedicated team of professionals who Royal Institute of Hospitality trainees assists. The hotel's spacious rooms are designed to capture all-day sunlight and provide a spectacular view of the surrounding scenery in the most energy-efficient way possible.
10. The Postcard Dewa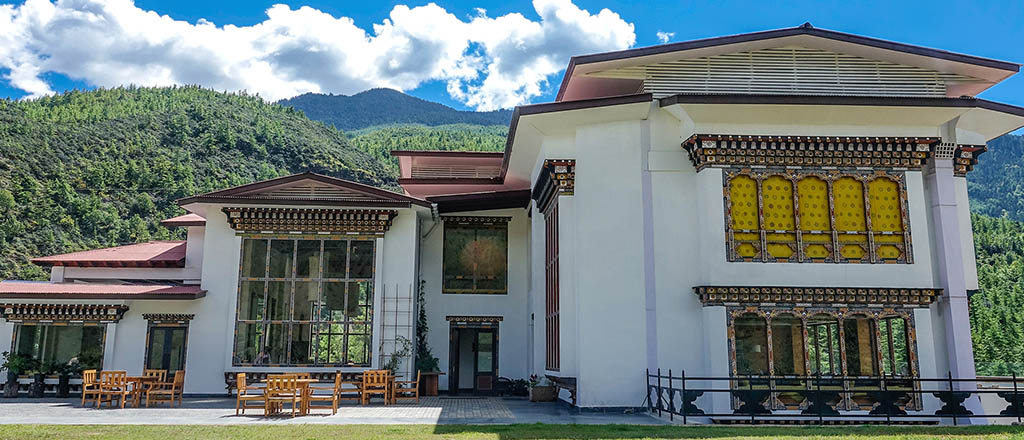 In Thimphu, Bhutan, The Postcard Dewa has a restaurant, fitness center, bar, and shared lounge. A bicycle rental service is available to guests, as well as an indoor pool.
11. Naksel Boutique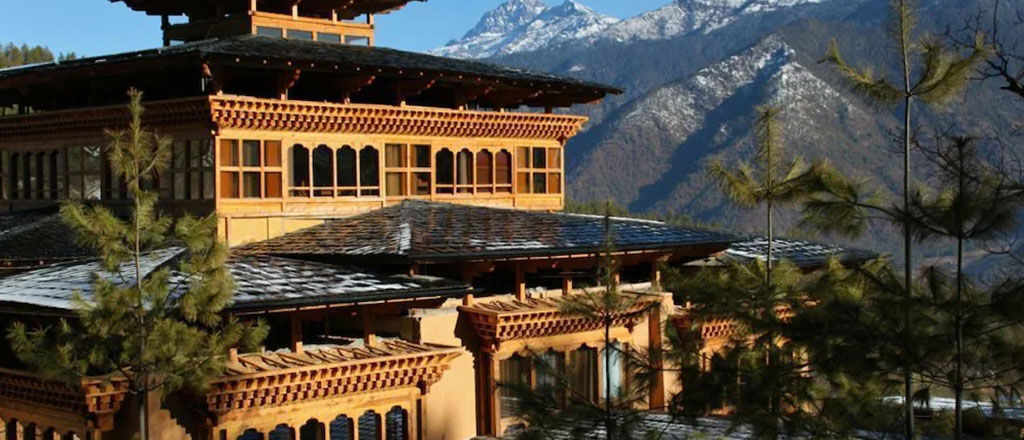 Naksel Boutique Hotel & Spa, located thirty minutes from Paro International Airport, is a luxury retreat where man's comforts and nature's presence combine for a peaceful escape in Bhutan's hills. All of the rooms at Naksel are designed with traditional Bhutanese craftsmanship and modern amenities. Each room has a flat-screen TV with multiple cable channels, as well as a tea and coffee maker and a safe.
Mount Jumolhari, Taktsang Monastery, Sang Choekhor Monastery, and the Paro valley below are visible from every room.
12. Druk Hotels
a. Druk-Thimphu Hotel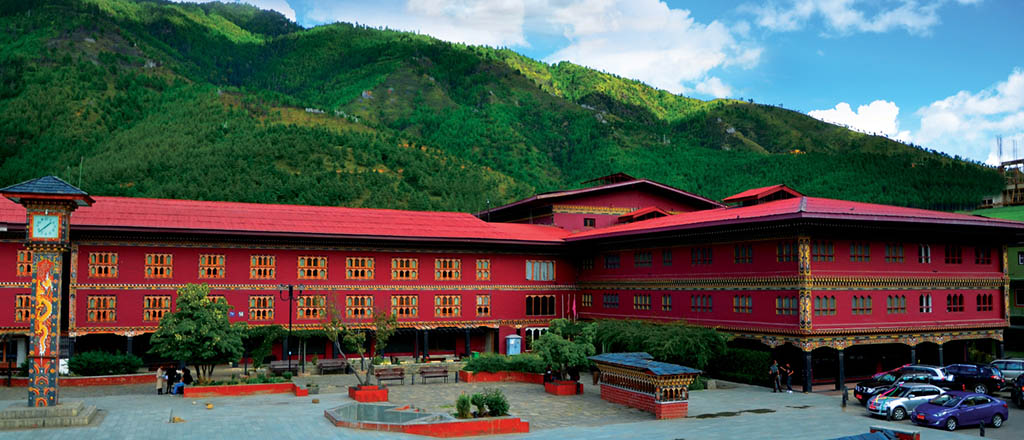 Hotel Druk is centrally located in Thimphu, close to the city's vibrant business, leisure, and government attractions. This unique four-star deluxe hotel is a tranquil and elegant retreat. A team dedicated to the comfort and happiness of their guests provides respectful, genuine, and attentive service.
b. Druk-Phuentsholing Hotel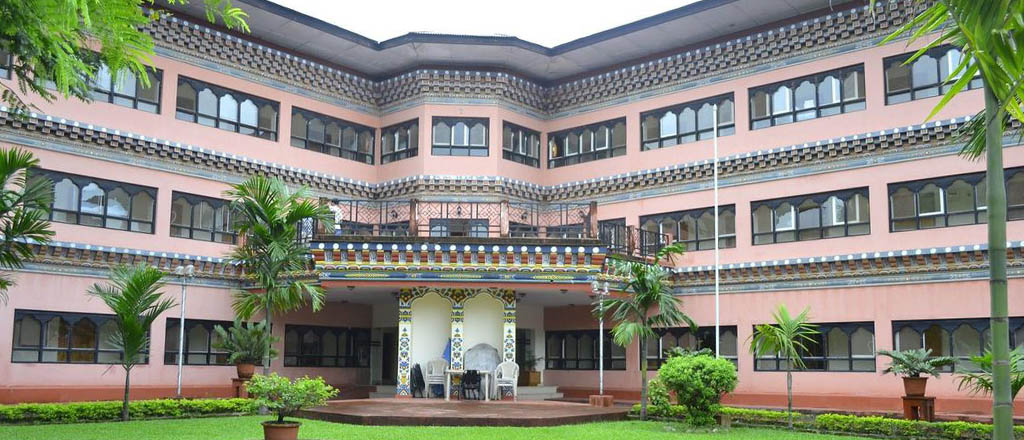 Hotel Druk Phuentsholing is a quaint setting amid the hustle and bustle. The Druk Hotel has 32 elegantly appointed rooms, including two junior suites and one presidential suite, that combine classic architecture with modern comfort. The Druk Hotel is the venue.
13. Wangchuk Group Of Hotels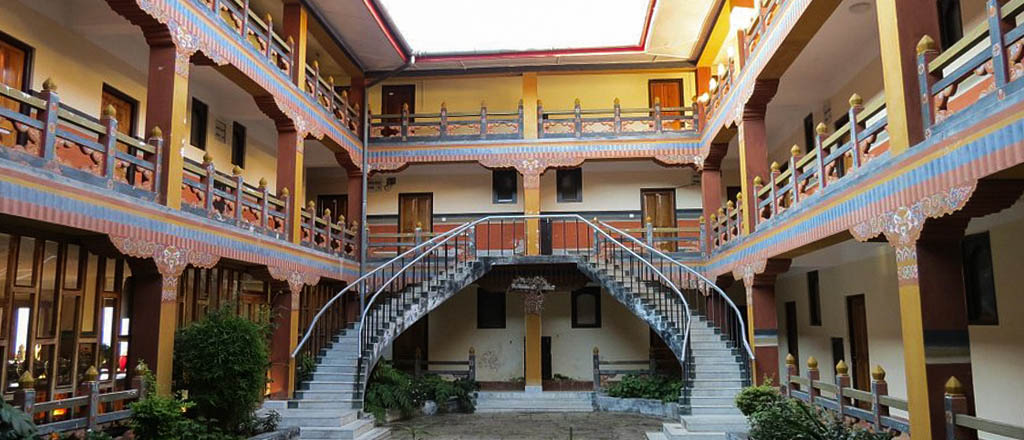 Wangchuk group of Hotels is a family-owned company that first opened its doors in 1996. With a lot of interest from the family and hope in the hospitality industry, the company expanded with five more branches, bringing the total number of properties in Bhutan to 6. Thimphu's Wangchuk Hotel was founded in 1996. ESTD 2006 Wangchuk Resort Taba, Thimphu Mongar, Wangchuk Hotel, ESTD 2008. Phobjikha, Wangchuk Lodge, ESTD 2015. Bumthang's Wangchuk Lodge, ESTD 2015. Thimphu, Amaa's Suites, ESTD 2018. The hotels all have large, spacious rooms with free Wi-Fi.
14. Terma Linca Resort & Spa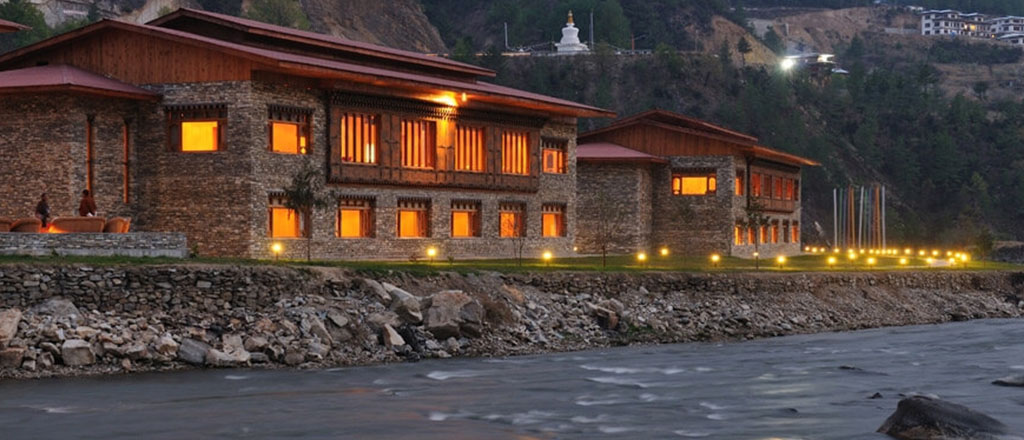 Terma Linca, located on the banks of the river, is a little piece of heaven on earth. In the hotel's zen atmosphere, you'll find a refreshing dose of comfort and a heaven-like experience. It is one of the best four-star hotels in Thimphu, Bhutan, and it is ideal for unwind and relaxation.
15. The Village Lodge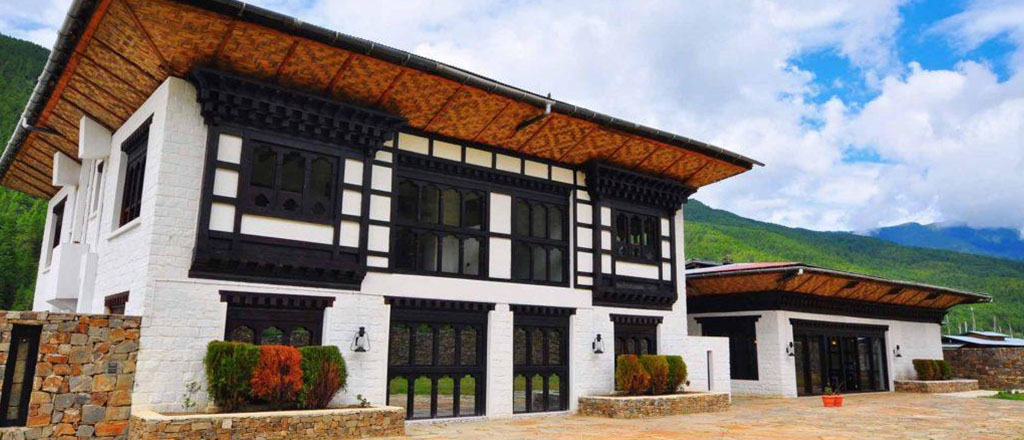 Village Lodge is admirably constructed in true Bhutanese essence, inspired by Bhutanese people's lifestyle and rich culture. The lodge, which is only a few minutes drive from Paro airport and set on fertile farmland in the heart of the vibrant Paro valley surrounded by lushly forested hills, offers exquisite traditional experiences and luxurious accommodations in a peaceful Himalayan setting. The suite rooms are tastefully decorated in traditional Bhutanese style. The rooms have an underground heating system, as well as a bathtub and a bathroom.
Experience the best hotels in Bhutan in the land of happiness. Make your holiday experience worthwhile with those mentioned above 15 best hotels in Bhutan. What are you waiting for? Start 2022 with a brand new holiday plan and experience the best luxurious, warm, and welcoming hotels in Bhutan.